about us
BANDA slovakia is a world music band from Slovakia. Since having been founded in 2003 it has been striving to follow its own road of perception of the genre. Slovak traditional music serves as our basic musical source. Nevertheless, with pleasure we mix it with foreign and extragenre material. We emphasize thorough knowledge of the folk musical tradition. The melody and the text of the song are not the only topic of interest for us, we are interested in the local dialect, way of polyphonic singing, ornamentation, harmonization and rhytmization of the folk musicians as well. In its production, Banda uses acoustic instruments and their sample, rich vocals respecting tradition and local specialty, albeit in a new, original nature.
As samples of its most important performances let us mention Festival Pohoda Trenčín, Boatyard Piešťany, NAY Dance House, Folklore Festival Východná, concert series in Trondheim, Norway. As a particular success the band considers its participation at the world music festival in Rudolfstadt, Germany, the Folk Vacations in Námešť nad Oslavou, Czechia, and the Mikolajski Festival in Lublin, Poland. The concerts in the Italian cities of Brendola, Viggiano and and Magliano, in Lvov, Ukraine, Plauen, Germany, Vienna and Krakow were successful as well.
Banda slovakia members:
Samo Smetana (violin, mandolin, bouzouki, tambourine, vocals)
Alžbeta Lukáčová (dulcimer, accordion, percussions, vocals)
Ivan Hanula (viola, mandolin, bouzouki, panduri, vocals)
Peter Obuch (bass, vocals)
Igor Ajdži Sabo (drums, percussion, vocals)
Eva Brunovská (vocal, keyboard)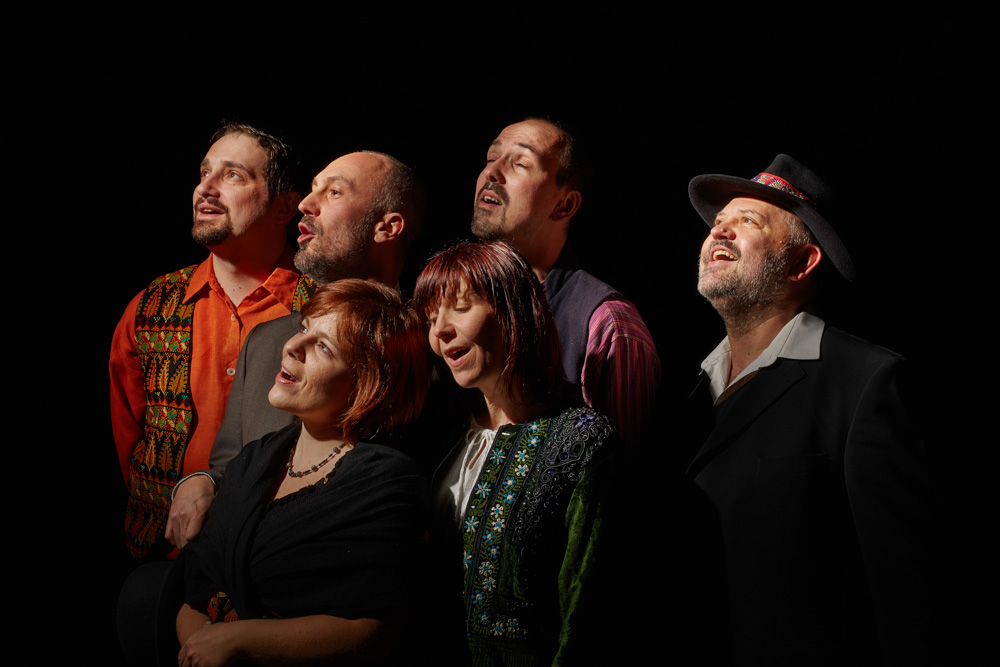 cooperation
Occasionally, we collaborate with the female singers group Trnki from Banská Bystrica and with
the bag-piper Juraj Dufek. Since Banda appears to be created for dance, it frequently works together with dance groups Partia and CreDance. Banda hosted the singer Zuzana Homolová as a frequent guest.
award-wining CD albums
Band jedna (Pavian Records, 2011)
– 8th place, World Music Charts Europe 10/2011
– Nomination, World Music/Folk category of the Radio_Head Awards 2011 Musical Folklore Prize of the Svetozár Stračina Grand Prix for the song Janči, Janči (Fazuľa)
Hra Banda (Pavian Records, 2014)
– 4th place, Global Village Top 40 Albums 02/2015
– 14th place, World Music Charts Europe 1/2015
– Album of the Week, FM Radio, RTVS 6/2014
– Album of the Week, Vltava Radio Czechia 9/2014
– 1st place for two weeks, 2nd place for one week for the song Nadeja at the Czech-Slovak hitparade of the Osmička radio_FM Slovakia 6/2015
– Song Vývoda among the twenty most played songs of the 30th week of Radio Proglas, Czechia 6/2014
– 1th place for the song Nadeja, Top 40 Tracks of World Music Charts by Ethnocloud 7/2015, 8/2015, 9/2015, 10/2015
– 1th place for the song Zozuľa, Top 40 Tracks of World Music Charts by Ethnocloud 1,2/2017, 2nd place 3/2017
Telegrafy (Pavian Records, 2018)
– Radio_Head Awards 2018 (cat.world music & folk)
– 19th place World Music Charts Europe 1/2015
BANDA si koleduje (Pro Etno, 2022)
– is doing to be realesed in december 2022 !!!
film
Dance between splinters (Marek Ťapák director, 2012) review
The clip for the song Šmerc has its origin in this film.
1890 (Peter Begányi director, 2017) historical detective series –the soudtrack (with the singer and leader of Korben Dallas band as a guest)
media
– live concerts for Radio Slovakia (RTVS), included into the international offer of EBU (2004, 2006, 2008, 2013)
– clips from the records of Slovak TV (RTVS), e. g. Gesharim Bridges, Kapura folklore hitparade
– Hudba Mesta clip at tv.sme.sk
organization of concerts
If all the Bands of the World is a double concert series organized regularly by Banda twice a year in DK (House of Culture) Zrkadlový háj in Bratislava-Petržalka. The concert consists of two parts. While Banda performs in the first part, in the second part a band or a musician of the world&ethno part is introduced. We particularly like songs we can play together. Making music in such a common way often results in a musical delicacy.
press responses, reviews
Nový album skupiny Banda je výborný, ale náročný. Ide o poctivú albumovku s tuctom skldieb a hodinkou čistého času. Oproti svojim predchodcom ponúka znova vlastný a svojský pohľad na spracovanie folklórneho dedičstva v prieniku medzikontinentálnej hudbe sveta… (more…)

10. January 2019